Kansas City, Missouri – January 16, 2020 – The American Association of Private Lenders (AAPL) and Wall Street housing research firm, Zelman & Associates, are partnering to launch the private lending industry's first and only benchmark data survey. The quarterly survey – which opens for responses in April – will gather key data on everything from private lenders' loan terms to origination volume and other key metrics.
"While private lenders originate billions in loans annually, we've lacked quantifiable data to support what we know to be an aggressively expanding industry," said Linda Hyde, managing director of AAPL. "From the outside, it makes us look smaller and less instrumental to the loan origination industry than we are. Internally, it means originators, fund managers, note buyers, brokers and service providers operate in an analytical dark age when it comes to trends specific to private lending."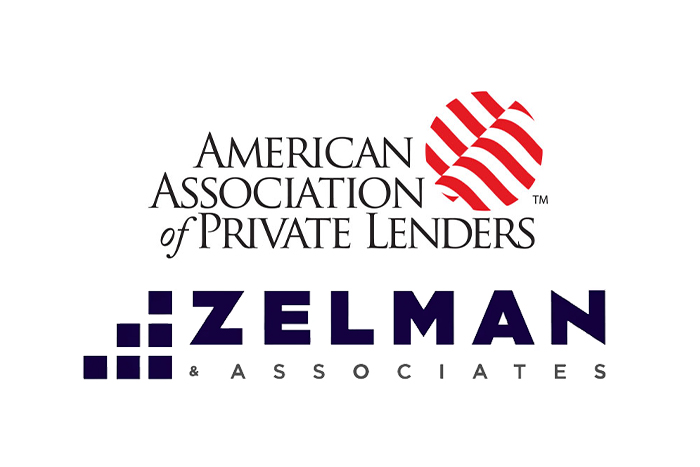 Zelman & Associates is uniquely qualified to conduct this survey, which will fill a critical void for the industry, given its history and unparalleled ability to triangulate data across the housing mosaic. Research provided over the company's tenure has been deemed to be the most insightful and accurate data available on housing, with conclusions translated into actionable insight for investors and housing executives.
Due to the primarily business-purpose nature of their loans, private lenders are not subject to many consumer loan reporting requirements that regulatory agencies require banks and other institutional lenders to complete. Most private and hard money lender companies are also privately held small businesses, and not subject to stockholder and SEC filings.
The absence of many reporting requirements means that specific market research data is almost nonexistent. And until recent years, the industry wasn't large enough to be of interest to large research firms like Zelman. That's changed in the last decade: Private lending has flourished as institutional lenders become highly regulated and unable to meet demand for business-purpose loans secured by real estate.
"We're expecting business- and industry-changing information from this survey," said Hyde. "It's time our industry stopped operating on hunches cobbled together from the traditional mortgage banking and housing industries. Our lenders' loan products and terms are different, and they serve different clients. We're excited to partner with Zelman to be at the forefront of this change."
Ivy Zelman, CEO of Zelman & Associates, initially contacted AAPL while researching what data was already available on the private lending industry. Upon learning from AAPL that the statistics didn't yet exist – and that the association was actively looking to fill the void, this initiative was born.
"The partnership is a natural fit and one we welcome as part of our mission to advance actionable insights across all sectors of the housing mosaic," said Ivy Zelman, CEO of Zelman & Associates. "Our survey network, which spans the housing industry, helps us to remain on the leading edge of understanding market dynamics. With AAPL's reputation and established contacts, we are confident we can quickly build the survey into the first statistically-relevant report on the private lending industry."
The survey is open to any company involved in private and hard money lending, pending approval by Zelman & Associates. In return for quarterly responses, survey respondents receive access to Zelman & Associates' most popular report, the Housing Market Overview, which aggregates all Zelman research; and reports from the AAPL/Zelman Private Lending Survey. Prospective respondents can sign up to take the survey at aaplonline.com/industry-survey.
About the American Association of Private Lenders
The American Association of Private Lenders (AAPL) is the first and largest national organization representing the private real estate and peer-to-peer lending industry. Its three core principles – Ethics, Advocacy, and Education – provide a foundation for a new generation of real estate capital. AAPL serves as a catalyst for industry growth by fostering awareness, promoting best practices and encouraging a standardized code of ethics for its membership. More information can be found at aaplonline.com.
About Zelman & Associates
Zelman & Associates is the leading Wall Street research firm specializing in housing. Every month, Zelman surveys nearly a thousand executives across various segments of the housing industry to maintain a pulse on current activity to provide investors, financial advisors and corporate executives with critical and real-time insights that can guide their investments and business decisions. Insights and analytics from these in-house surveys, and other proprietary research offerings, are available to institutional investors, corporate executives and others engaged in the financial and housing industries. The firm was founded in 2007 by Hall of Fame Institutional Investor Equity Research Analyst, Ivy Zelman, and Director of Research, Dennis McGill.