Erica LaCentra on preparedness, planning, adaptation and mentorship for professional and personal success
Erica LaCentra, marketing manager, is responsible for planning, developing and implementing RCN Capital's strategic marketing plan. Since her arrival in the position in 2013, RCN Capital has grown from a regional to a national lender. Private Lender caught up with LaCentra to learn more about her strategies and what makes her a powerful force in the private lending space.
Private Lender: Congratulations on growing RCN Capital from a regional to national lender in a relatively short amount of time. Can you tell us about the marketing strategy you developed and how it was implemented?
Erica LaCentra: When I started at RCN Capital, which was Rehab Cash Now at the time, I found myself in a unique situation. The marketing position had been vacant for over three months, so most of the materials that existed for the company were outdated. On top of that, immediately after I came on board, plans for a re-brand were in the works. I decided to focus my initial efforts on the company re-branding. That started with building out the look and feel of RCN Capital and developing core marketing materials around this new brand image. From there, I developed major print and digital campaigns centered on the change from Rehab Cash Now to RCN Capital, to ensure a smooth transition. Finally, I focused on creating a marketing mix that would ensure that RCN Capital was constantly in front of its core audience. It was really about making sure customers in our industry grew to know and trust RCN Capital as a serious player in the space. These steps were the building blocks of positioning the company as a leading nationwide private lender.
PL: Were there any road bumps during implementation, and if so, how did you adjust?
EL: During the re-brand, I had anticipated a smooth, very immediate transition from Rehab Cash Now to RCN Capital. However, I found that transition to be harder than I initially anticipated. Internally, many employees were hesitant to let go of the Rehab Cash Now brand and embrace RCN Capital. I decided, that in order to make the transition more seamless from an internal and external perspective, we would run short-term, dual-branded campaigns so that when people saw Rehab Cash Now, they would immediately think RCN Capital. Once the connection was established, we phased out Rehab Cash Now and focused on building up the RCN Capital brand. Then we ultimately got back on track with the initial marketing plan.
PL: How did your education and background prepare you for taking the helm as marketing manager at RCN Capital?
EL: I actually started my college education studying for a degree in interior design, which gave me the opportunity to take a year-and-a-half of foundation art classes in addition to core business classes. Although I ultimately changed majors and graduated with a degree in advertising, I think getting that mix of creative classes and business classes helped set me up for success in my role as the marketing manager of RCN Capital. I don't think I would have felt nearly as comfortable building out our brand image and voice without that creative foundation.
PL: What has been your biggest challenge at RCN Capital?
EL: My biggest challenge at RCN was having to learn the intricacies of the private lending industry on the fly. When I graduated from college, I wanted to work for an agency that focused on marketing consumer products. I had never anticipated ending up in such a niche industry. When I started, I knew very little about real estate investment financing, but I knew that in order to effectively market RCN's products I had to learn as much as I could as quickly as possible. I am so grateful to the co-workers that didn't get tired of my constant streams of questions and provided me with all of the information I needed starting out. Even now I make a point of continuing to learn about our industry. I can honestly say I am fascinated to see the progression of private lending and I love reading about where it is going.
PL: What has been your greatest accomplishment at RCN Capital?
EL: My greatest accomplishment at RCN was winning the American Association of Private Lenders' Member of the Year Award. My five years at RCN have been a unique and truly incredible experience. Being able to step into a company and immediately be able to contribute to the future success of the business and be a part of the journey through the bad and the good is unlike anything I have ever experienced. However, often times it can be easy to get caught up in the day to day and not think about how your job fits into the grand scheme of things. Winning that award gave me an opportunity to reflect on all of the things I have accomplished while at RCN. It was such a satisfying feeling to be recognized in the industry for all of the hard work and effort I had put in over the years.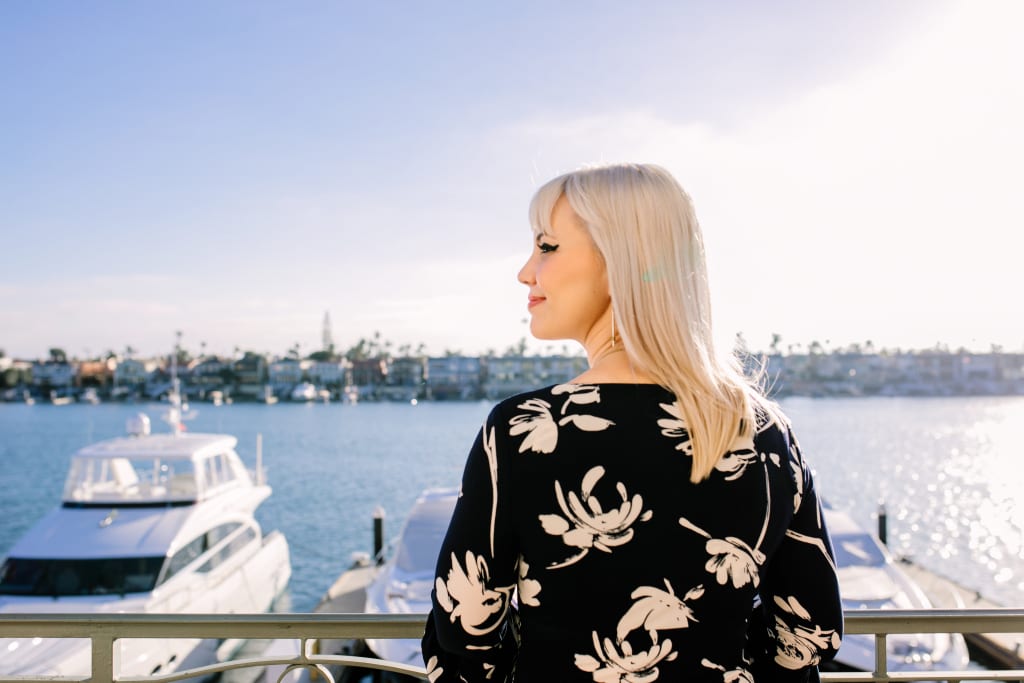 PL: Do you set personal and professional goals?
EL: I think it's extremely important to set personal and professional goals for myself so that I can track my progress over the years and see how far I've come. I find that many of my personal and professional goals go hand in hand and I think I am very fortunate to work for a company that provides me with a lot of the resources I need to achieve those goals. Starting out, I knew that I wanted to actively contribute to this industry but I really didn't know where to begin. Working for RCN has opened a lot of doors for me and given me access to opportunities like contributing my knowledge through articles in industry publications and teaching educational sessions at conferences. It is nice to work for a company that encourages personal and professional growth.
PL: How do you define personal success?
EL: There is no easy recipe for success, and realizing that allows you to look at things objectively and make the most out of every new opportunity. I believe success is determined by how much you're learning – about your business, your customers, your industry, your competitors, and yourself. If you're constantly working to improve yourself and your business, that is success.
PL: Do you have any female mentors?
EL: I have met some incredible women in this industry as well as in related industries over the years that I owe a lot of my success to. The first person to take a chance on me, that ultimately led to me getting my foot in the door at RCN Capital, was the executive director of a ticket broker conference hosted by RCN's sister company. At the time, I had a secretarial position at RCN's sister company and was trying to find any way I could to transition into a marketing role. The executive director commuted into the office from New York City and I volunteered to pick her up and drop her off at the train station every week. During those 20-minute car trips, I would pick her brain about the industry, what her team was working on and if there was any way I could get involved. She not only was happy to share her knowledge with me but she appreciated my desire to get involved. After several months, she ended up inviting me to work onsite at the conference. It was that opportunity that led to me meeting the managing director of RCN Capital. I am so appreciative of all she did for me and everything she taught me during that period of my life.
I also consider Chrissey, the director of marketing and member services at the American Association of Private Lenders to be a mentor as well as a great friend. I admire all of her efforts and her hard work. I truly appreciate the fact that I have someone I can consult with who is in a very similar role and understands the pain points of marketing in the private lending industry.
Finally, I couldn't talk about female mentors in my life without giving a shout out to my mom. My mom is one of my biggest supporters and has always been someone I've tried to emulate in life. I credit my strong work ethic and drive to my mom, who I can remember constantly busting her butt throughout my childhood.
PL: How do you spend your time away from work?
EL: I try to spend my time away from work with friends and family. I regularly visit friends around the state and about once a month, I try to make it back to my hometown in Massachusetts to spend time with folks. I'm also a big foodie so I spend a lot of my free time cooking, trying out new recipes, and visiting new restaurants. Finally, I'm a big proponent of fitness as an outlet for stress and I'm a big fan of kickboxing. There is something so satisfying about a killer workout after a tough day.
PL: How would you like to one day be remembered?
EL: I want to be remembered as someone that mentored and inspired others to pursue their passion of marketing and advertising. I hope to work with young marketing professionals and help them become innovators in their profession, as so many people have and continue to help me along the way.