Astute observation, bold action, personal responsibility and a willingness to adjust are the keys to Bobby Montagne's success.
Bobby Montagne, CEO of Walnut Street Finance, has overseen billions in transactions over his three decades in the real estate industry. Having invested much of his successful career on the development side, he learned first-hand the unique challenges that real estate investors and developers face. His rich experience, constant self-education, willingness to take calculated risk and his empathy with developers sets him apart as a private lender.
You have decades of experience and success in commercial and residential property development, sales and finance. What initially drew you to the real estate industry?
I grew up in Northern Virginia and watched my neighborhood double in size. Roads were constantly widened, and new shopping centers popped up everywhere. I intrinsically learned real estate development and, at an early age, knew I wanted to be a part of it.
After working for other companies in the real estate industry, you started your first company, Walnut Street Development, in 1997. What was the impetus behind that move? What was the biggest challenge you faced, and when did you know it was the right decision?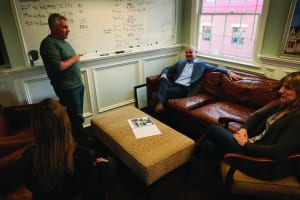 I worked for others in the real estate development and finance industry for 10 years before setting out on my own. I was lucky. I met Harley Cook, my mentor, to whom I owe so much. Early in my career and through the years, he taught me what it took to be a successful real estate developer. He taught me that I am responsible for every aspect of my development project and that every detail matters. I watched what he did, what he did not do, how he conducted himself and tried to emulate his style. I have fallen short, but I know what a great developer and business man looks and acts like.
The impetus behind the move to go out on my own is a good question. I guess I wanted to see if I could do it.
The biggest challenge was securing reliable capital. I spent more time chasing money than I did buying, zoning and building buildings.
I knew it was the right decision when my wife, Bridget, told me she was proud of me.
You created Walnut Street Development Capital in 2010 to purchase, renovate and resell classic Washington, D.C., row houses, generating 150 million in revenue. What led you to undertake this project? Did you have an affinity for historic Washington neighborhoods?
I do love the history and charm of D.C. neighborhoods, but the real motivators in choosing D.C. row houses were volume and proximity. With thousands of distressed properties in such a small area, it just made logistical and financial sense. I could manage multiple projects that were literally on the same street, or certainly in the same neighborhood, rather than houses in the suburbs that were not only farther apart but very different styles. I did renovate and flip many suburban properties as well, but as I got entrenched in D.C. neighborhoods, and really started understanding what features a Wardman row house should have and what it should sell for in Petworth, for example. It just made sense to specialize and focus on D.C. neighborhoods.
What was the impetus behind the creation of Walnut Street Finance? How has your background prepared you for running that company?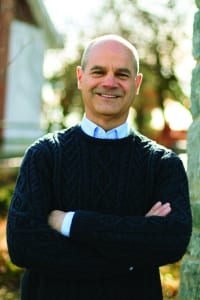 After the Great Recession, a lending vacuum was created restricting debt capital flow to infill and fix-and-flip developers and investors. We noticed that worthy real estate development projects sponsored by worthy rehabbers and investors were not getting done, strictly due to lack of capital. We pivoted from a developer to a lender in late 2015 to fill this void and have not looked back. Our two decades of boots on the ground development make us a better, more empathetic and capable lender.
How do you keep up with the latest developments with the economy, financial and real estate markets?
I read a lot, talk to everyone and, more importantly, listen to what they have to say and consistently meet new people.
What are your biggest motivators? What gets you up and going each day?
I love building businesses—starting something from scratch and turning it into a thriving entity that can completely stand on its own. Something that impacts people's lives in positive ways, including meaningful work, consistent investment returns and unlimited growth opportunity for anyone willing to put forth the effort.
Is there anything you do daily to help you grow as an entrepreneur and business owner?
Observe, take action and adjust. Whether it's online or in several daily newspapers, white papers or books, I am constantly reading and learning about not only our industry but about national trends, growing businesses, behavioral economics, etc. I'm also constantly analyzing my business and adjusting what is working and what is not, whether that's hiring new people, building new vendor relationships or taking our website in a new direction. I'm not afraid to take chances on new ideas or pivot when I see that something isn't working well.
What was your most gratifying moment in business?
So many gratifying moments, it's hard to pinpoint one. My best move in business was getting on the sidelines in early 2006 and staying there for over a year.
Early 2006 was about a year before the housing market crash and Great Recession. What tipped you off to the coming collapse?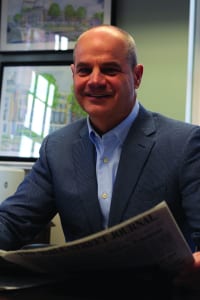 In late 2005 and early 2006, we were delivering three residential buildings, including over 500 condo units. And, we were getting ready to break ground on three new residential buildings, all in or around Washington, D.C.
My equity partners at the time were a father and son team, Tom II and Tom III Dungan, and this was not their first rodeo. They kept a close eye on the markets and my activities, focusing on a combination of sold units per week and access to capital for our new buildings. Long story short, we were having trouble selling the last 30 units out of 500 in our existing buildings. At the same time, we had several debt suitors seeking our business for our new projects.
[We] realized we must be at the top of the market—slow sales and easy money. We quietly sold our development projects and moved to the sidelines to weather the approaching storm.
What advice do you have for beginning entrepreneurs?
Look for ideas and inspiration everywhere. For example, an instructional golf website inspired my company's educational video series. Don't be afraid to borrow ideas from the best and brightest. Look to the leaders in your industry, or any industry, to see what they do best and how they do it. Absorb those lessons and best practices into your business.
What has been your greatest achievement so far?
Easy. Matthew and Annie, my two kids who make it all worthwhile and fun.
What life lessons or character traits do you try to instill in your children?
Simple. Do what you say you're going to do, and take massive action.
How do you like to spend your time away from work?
Away from work you can typically find me in one of three places: golf course, restaurant or grocery store. I love food.
Is there anyone who has influenced your life?
My father. His strength of character was unquestionable, so when he said something, you listened because you knew it was either true or would become true. One of the things my dad taught me at an early age has stuck with me my entire life
and is a foundational principle I live by: It is not what happens to you that matters, what matters is what you do about it — how you perceive it, take action and see your plan through regardless of the circumstances.
What would you like your legacy to be?
I believe God favors the bold, and I am hopeful to leave this planet a little brighter by acting on and sharing this thought.