You may recognize RCN Capital's marketing manager, Erica LaCentra from Private Lender magazine's Lender Limelight, AAPL's Education Advisory Committee, or maybe noticed when she received one of AAPL's very first Excellence Awards!  We were fortunate to get a chance to talk to this bright and ambitious go-getter about her experiences as a successful female the male-dominated private real estate lending industry.
AAPL: Do you have daily practices that lend to your strengths?
Erica LaCentra: I have daily practices that I believe contribute to my strength. I make sure to make time for myself in the morning, before I head into work, and at night, after I head home from work. I use this time to compose my thoughts and plan out the next day/week/month, do something productive like catch up on the news, read a new book, etc., and generally reduce my stress level. I think so many people are tied to their jobs where they are working at all hours of the day and they burn themselves out. I think it's important to set aside time for myself every day so that when I'm focused on work, I'm at my best and my projects get my full attention.
AAPL: What characteristics are necessary for women to be in such a male dominated industry?
EL: I think it is necessary for women in this industry to be strong-willed, self-confident, exceptional communicators and not afraid to push back when necessary. I think women are easily discounted in this industry because it is male dominated. I have had customers request to speak to a male co-worker on numerous occasions because they don't think I am educated in our company's products. Confidence and strong communication skills are so important in these situations because in situations like this, your response should never be disregarded because of your gender. I also think it's necessary to have a thick skin but not be afraid to speak up when individuals are out of line.
AAPL: Now that you have been in the industry for a while, what would you tell your younger self about going into this sector of finance?
EL: I would tell myself to trust my instincts and to speak up more. When I started out in this sector of finance, it was easy to be intimidated by other seasoned professionals in the industry because I was brand-new to the space. I often allowed my opinions to go unheard because I was too afraid of sounding inexperienced. Now that I have found my footing, I realize that I should have been more vocal starting out. I was hired to present new ideas and bring a new perspective to the company. I could have contributed new ideas sooner had I been more confident in my abilities.
AAPL: What advice would you give other woman searching for their industry voice?
EL: I would say don't be afraid to make yourself heard. I think so many women don't voice their opinion in the industry because they fear that others will reject what they have to say. Just because our industry is male dominated, it doesn't mean that men always have the right ideas. Diversity and new ideas are the only things that will allow our industry to adapt and grow. Find your voice and don't be afraid to put yourself out there.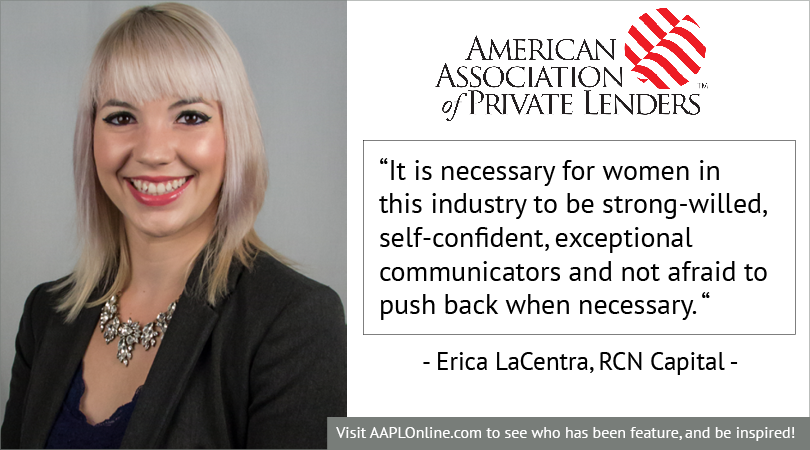 AAPL: Do you define yourself as an industry disrupter? If so, how and why?
EL: I don't consider myself an industry disrupter so much as I consider myself a strong contributor to the industry. I don't believe I have done anything earth shattering for the industry, but I am proud of the contributions I have made over the years and I continue to make. I hope that others can be inspired by the work I have accomplished as well as the work that other women in the industry have accomplished and continue to propel the industry forward.
AAPL: How do you think the gender gap has affected or not affected your career?
EL: Thankfully, because of the company I work for, I don't believe the gender gap has affected my career as much as it could. RCN has encouraged me to grow professionally and has provided me with access to the tools and opportunities I have needed to advance my career. I do believe that I have had to work harder than male counterparts to gain recognition in the industry but –  if anything – that has just accelerated my career growth.
AAPL: Is the company you work for doing anything to help close the gap?
EL: While we aren't doing anything groundbreaking, RCN provides equal opportunities to male and female employees to advance their careers. Management recognizes individuals' accomplishments and appropriately rewards employees for their accomplishments regardless of gender. Currently, RCN has almost an equal number of males and females in management positions. This is because positions are awarded based solely on experience and individual merit.
AAPL: What do others need to be aware of when it comes to the gender gap in the finance industry?
EL: I think others just need to be aware that the gender gap is still so prevalent in the finance industry. People may not think so because it isn't a huge issue in their organization, but it is still a widespread issue in our space. The finance industry can't begin to address this issue until people acknowledge that it is a problem.
AAPL: Have you witnessed change since you started in the industry?
EL: I have witnessed an increase of women in management roles and in the industry, in general, since I started. I think as women have taken on larger roles in the industry, they have inspired other young women to explore similar career paths. I hope this is a continuing trend, but it becomes more and more apparent over the years that strong women are stepping up and becoming more active in the finance industry.
AAPL: Have you experienced or witnessed a larger ratio of men to women receiving leadership positions in your company? If so, how can you company fix this?
EL: I think one of the things that makes me proud to work for RCN is that our organization nearly has an equal ratio of men to women in leadership positions. In my time with the company, I have not witnessed a case where an individual was passed over for a leadership position solely because of their gender. It's refreshing to work for a company that promotes individuals based on their knowledge and accomplishments.
AAPL: How can companies improve their own responsibility to their stakeholders and community?
EL: It is important that companies take the time to invest in a cause that is not only relevant to their business but is also significant and will have a positive impact on the community that they serve. Even taking small steps like giving employees time during the year to volunteer for causes that are important to them contributes to the bigger picture.  A company's effort to improve their responsibility to their stakeholders goes hand in hand with their efforts to improve responsibility to their community. Companies that ignore taking an interest in causes that are important to their community can be seen as socially irresponsible and run the risk of tainting relationships with their stakeholders.
AAPL: Do you see or think there is a difference between male and female views of corporate responsibility?
EL: While male and female views of corporate responsibility may create different focuses for company efforts, I don't believe there is a stark difference between the genders. Corporate responsibility should really come back to the idea that companies know their niche and figure out what causes are most important to their employees, stakeholders and communities. While some companies' efforts may be directed toward aligning themselves with causes that are more closely related to a specific gender, I don't necessarily think that translates to the idea that men and women have different views of corporate responsibility.
##
Be sure to check out the other profiles featured throughout March, and be inspired!