Katia Potapov is director of operations at Walnut Street Finance, LLC. She has over 16 years of operational and project management experience in various industries, including real estate and construction, media and entertainment, industry associations and government agencies. Potapov directs and oversees Walnut Street Finance's investor relations function and serves as the primary point of contact for all private investors, credit facilities and secondary market partners. In addition to creating financial pipeline reports, she captures and presents investor feedback to the executive committee and builds relationships with potential stakeholders for future financing at favorable terms.
AAPL asked Potapov about being a successful woman in finance.
AAPL: Do you think women bring different skill-sets to the finance industry compared to men?
Katia Potapov: Male or female, one brings their unique skill-set to the industry via education and experience. I came to private lending after working in commercial design and media. The executive management, contract negotiation and financial control skills I gained in those positions all translated directly into this space of private lending. The previous industries I worked in tended to be male-dominated but I have found that if you understand the business environment and are open to new insights, people treat you with respect regardless of gender.
AAPL: What characteristics, in a female, do you think it takes to be a good leader?
KP: Being a strong, successful female leader is about constant education, leading by example, thinking strategically and understanding how larger economic conditions play out in local markets. Ultimately, being passionate and good at what you do leads to growth and success.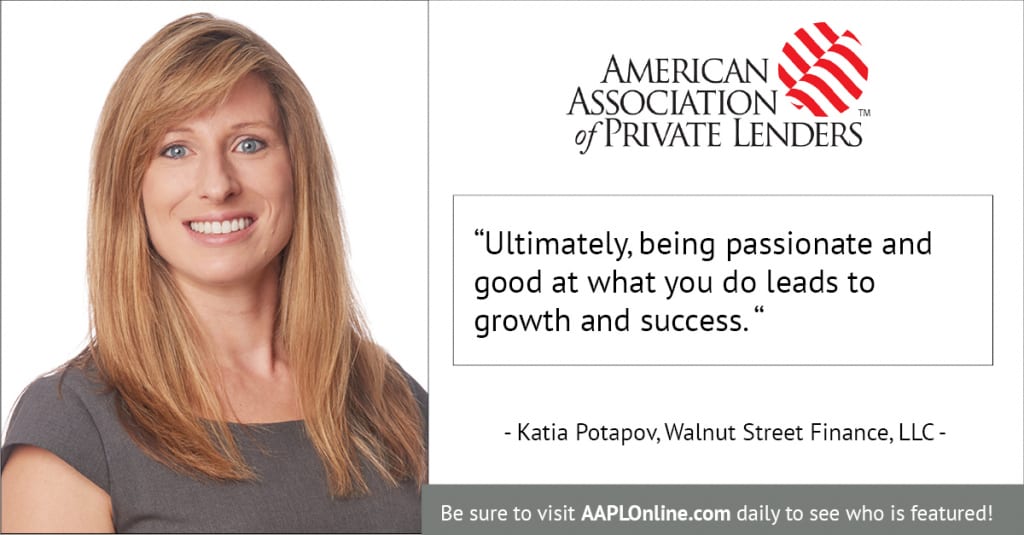 AAPL: How does your company adjust for the gender gap?
KP: To succeed in private lending, you have to constantly analyze your business model, the local market, investor sentiment and the overall economy. At Walnut Street Finance, we tackle that challenge as a team, and there's no gender gap. We're frank with each other about what's working and what's not. We are fortunate to have an environment here where everyone's voice and opinion is heard because each player on our team has experience and ideas that are valued across the board.
AAPL: Where do you see the most effects of women leaders in the finance industry?
KP: Finance, construction and the fix-and-flip business are definitely male-dominated industries. Women leaders in this field can influence female entrepreneurs (particularly in the rehab business) by being a resource for them. We've had some female borrowers that gravitated toward interacting with the female development officers here at Walnut Street and we are happy to accommodate those individual needs.
##
Check back daily to see who is featured, and be inspired!