Susan Naftulin is the co-founder and president of Rehab Financial Group, LP. She has an impressive background that ranges through several senior management positions in the mortgage industry, including general counsel, managing attorney, chief operating officer and senior vice president for both privately and publicly held mortgage lenders. In each of these positions, she was responsible for multiple aspects of the company, including loan origination and documentation, licensing and regulatory compliance, servicing, default management, litigation management and human resources.
Naftulin serves on the American Association of Private Lenders Ethics Advisory Committee where she continuously upholds the real estate industry's values and supports professional conduct in private lending.
Before entering the mortgage industry, Naftulin was a creditors' rights attorney. She obtained her law degree from the University of Pittsburgh and has two Bachelor of Arts degrees from Carnegie Mellon University, in history and the other in secondary education.
You may have recently seen a short interview with Naftulin from AAPL's February Member Spotlight, but we've had a chance to take the conversation an entirely new direction as we are focusing on women in finance this month.  Here are Naftulin's thoughts on the strengths of women in leadership positions to the gender gap:
 AAPL: What female leader do you try to emulate or look up to for strength and guidance?
Susan Naftulin: My mother.  She had a difficult childhood, which made her tough and resilient.  She never let anything hold her back.  She dealt with adversity, made her peace with it and moved forward.  She gave that strength to me in the way she raised me.  Even when given a terminal diagnosis and told she had 2-3 weeks to live, she never cried or complained.  She remarked that she had a wonderful life, had done everything on her bucket list and was ready to leave this earth.  No self-pity, no weeping or wailing.  She was pleasant and making jokes until the very end.
AAPL:  Do you have daily practices that lend to your strengths? 
SN: My daily practices are in my business – I answer every phone call, every email on the day when made (if possible) and always treat my customers as I would want to be treated.
AAPL: What characteristics are necessary for women to be in such a male dominated industry? 
SN: Strength and resiliency.  Rise above it.  Work smart.  Work hard.  Don't be a victim.
AAPL: What motivates you to get out of bed and face your industry on a daily basis? 
SN:  I love what I do and the people I work with.
AAPL: What advice would you give other woman searching for their industry voice?
SN:  Just start speaking.  Don't wait for an invitation, it will not likely come.
AAPL: What characteristics are necessary for a woman to have to be a good leader? 
SN: Be direct, don't be too soft or afraid to speak your mind.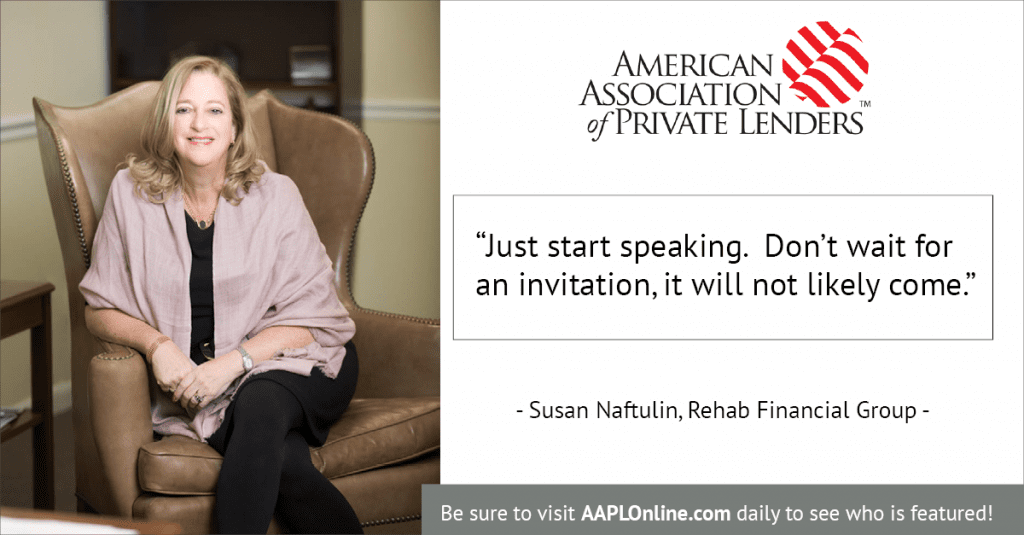 AAPL: Do you define yourself as an industry disrupter? If so, how and why? 
SN: Not a disrupter, an enhancer.
AAPL: Do you think the gender gap still exists?
SN: 100 percent.  While there are more women coming into the business, still not enough are assuming positions of leadership.
AAPL: What changes do you think should be made to create a balance between men and women in the finance industry?
SN: More leadership opportunities and support among the women in the business.
AAPL: How do you think the gender gap has affected or not affected your career? 
SN: I would have ended up in the same place earlier, without having to "prove" myself.
AAPL: Is the company you work for doing anything to help close the gap? 
SN:  I hire and promote women (within and outside of my business) whenever possible.
AAPL: Have you witnessed change since you started in the industry? 
SN: Yes, definitely more women but still not enough.
AAPL: Have you experienced or witnessed a larger ratio of men to women receiving leadership positions in your company? If so, how can you company fix this? 
SN: No. I own the company!
##
Check back daily to see who is featured, and to be inspired!