Many people question why I would ask someone like Barney Frank to speak at American Association of Private Lenders' (AAPL) 10th anniversary conference this year in Las Vegas. Last year, AAPL's Managing Director, Linda Hyde, and I discussed many speakers worthy of headlining this milestone event. We talked about television celebrities, economists, investors, and others, but we could not shake the idea of Barney Frank. You may think we are crazy, and we might be a little.
After spending the better part of the last two years in D.C. speaking to legislators and sitting on a sub-committee dealing with finance, I realized a few things:
Washington does not know who private lenders are.
They do not know what service we bring to the business community.
They have a misperception of our goals and business models.
Whether or not you think Barney Frank is the enemy, he wrote one of our nation's most influential pieces of legislation with regards to lending — legislation that has affected our business. In many ways it made our jobs harder and less efficient. But, it also created a vacuum where we have seen 10 times the amount of private capital come into the marketplace than ever before.
So before you judge our motive, I want you to commit to coming to the conference to hear what is said. As an association we do not agree with many parts of his legislation, but that is no reason for us to put our heads in the sand and not have a conversation about what we like and dislike. It is time we rally together and make our voices heard. Inviting Barney Frank to be AAPL's keynote speaker says to legislators that we are open-minded and willing to have a conversation about how we can positively affect our industry, and that our voices deserve to be heard.
I hope you will join us at our 10-year anniversary event in Las Vegas as it promises to be a monumental event!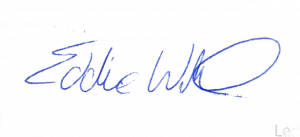 Eddie Wilson, CEO